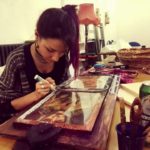 ENG
Chiara Luise is an Italian painter. She was born in 1990 in Lombardy, where she lives and works.
This young artist is fascinated by the mistery of her unconscious mind, which is translated every night into her vivid dreams. Dreams are actually one her dearest themes, together with the expressive power of women as subjects, represented thanks to mixed media techniques ((pastels, pencils, airbrush and acrylics on wood, paper and canvas.)
"There is something deeper in human essence which needs to be deciphered ,since it is an empire of symbols. What is under the surface is what really matters and the only element which can eventually give a sense to our existence. We live to know, but our research would not make sense if we don't try to explore the biggest mistery: ourselves."
ITA
Chiara Luise è una pittrice italiana, nata nel 1990 in Lombardia, dove vive e lavora.
Questa giovane artista subisce il fascino dell'inconscio, tradotto ogni notte dai suoi sogni vividi, principale tematica e fonte di ispirazione per i suoi quadri, insieme alla potenza espressiva della donna come soggetto. La pittrice realizza le sue opere con una tecnica mista, sfruttando vari supporti (legno, carta e tela) e utilizzando gessetti, pastelli, acrilici e aerografo.
"C'è qualcosa di profondo nell'essenza umana che deve essere decifrato, data la sua natura simbolica. Ciò che si cela sotto alla superficie è ciò che ha realmente importanza, l'unico elemento che può dare un senso alla nostra esistenza. Viviamo per conoscere, e una condizione necessaria per la conoscenza è l'esplorazione del mistero più grande: noi stessi."